The new international project. The CD was released by NWOG in 2014
Cast:
Sebastian Schunke – compositions, piano
Hans Glawischnig – bass (NY) or Marcel Krömker -bass (berlin)
Diego Pinera – drums (berlin)
Pernelle Saturnino – percussion (NY) or Robby Geerken – percussion (berlin)
Alex Sipiagin – trumpet (NY)
Nils Wogram – trombone or Tim Albright – trombone (NY)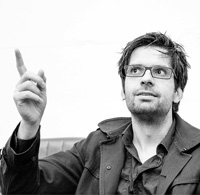 "Who would have thought? One of the most important innovators in Latin jazz in recent years comes from Germany. His name is Sebastian Schunke, he comes from Lower Saxony and enjoys an excellent reputation in the USA and South America. The 40-year-old pianist and composer performs regularly at the most renowned festivals in Latin America, the cast list for his six productions to date is peppered with Grammy winners and Latin legends such as Paquito D'Rivera, the specialist magazines roll over their heads in their reviews with hymns of praise and top CD ratings.
"Genesis. Mystery and Magic" is what Schunke called his current recording. That may sound impressive, almost biblical, but it is meant to be very modest. With the title, the ex-New Yorker and Berliner by choice, whose second daughter was growing in her mother's womb while the CD was being made, wants to express his grateful astonishment at the development of art and life. It's about the miracle of how, as it were, thoughts and ideas become music out of nothing – and how instrumentalists from the most diverse cultures find a common expression against the Babylonian confusion of languages.
For his new recording, the pianist was able to drum up an international cast that deserves without understatement the term "Dream Team": New York-based Russian trumpeter Alex Sipiagin (Mingus Dynasty, Michael Brecker Quindectet, Dave Holland Sextet) shares the one in everyone Regarding breathtakingly playing trombonist Nils Wogram, Germany's legitimate Albert-Mangelsdorff successor, the melodic lead parts. The Austrian bassist Hans Glawischnig, who lives in the Big Apple, weaves dense rhythm webs with the master percussionist Pernell Saturnino from Curacao (including Chick Corea, Wynton Marsalis, Dee Dee Bridgewater) and the drummer Diego Pinera from Uruguay. Schunke himself pulls the strings as a composer and subtle soloist. Europe meets South America, urban, heated contemporary jazz mixed with tightly interlocking grooves from Latin America.
In short: everything you thought you knew about Latin jazz – forget it!
On Genesis. Mystery and Magic" all the clichés carefully nurtured by the success of the "Buena Vista Social Club" turn out to be obsolete. This music, which is based on traditional rhythms from Cuba, Puerto Rico or Uruguay, is intellectual and highly complex without being top-heavy at one point. It draws its influences from European classical music as well as from post-bop and free jazz. One can say with a clear conscience that the recording is Schunke's magnum opus, with which he sums up his previous work.
This oeuvre is extremely diverse: it ranges from the experiments that the young pianist made with odd Latin meters on his debut album "Symbiosis", recorded in New York in 2002, to his large-scale formation project "Mouvement", which was reinforced with jazz rock guitar and electronics to the unusual capital city modern jazz of the 2011 CD "Life and Death" in Berlin. And then there's the 2008 recording Back in New York, which featured Cuban clarinettist Paquito D'Rivera. The founder of the legendary formation Irakere was full of praise for the German: "That guy is a very, very fine pianist and composer. He is very good!" D'Rivera reported afterwards. Schunke describes this record as his "journeyman's piece". Now the time has come for a masterpiece.
"I try to allow everything in music. But always with the claim that it is new and surprises and challenges me," says Sebastian Schunke, describing his philosophy. On Genesis. Mystery and Magic" he succeeds in implementing this credo in an exemplary manner. Be it in the piece "Ella", for example, in which a series of 5/4 and 6/4 bars are organically shifted against each other on the melody and bass level and trombone and trumpet engage in a heated duel, be it in the composition "Metamorphosis", which transfers a traditional plena rhythm from Puerto Rico to a form of 28/4 and gives Schunke the opportunity for a sharp-edged, sophisticated piano solo. The avant-garde interludes, in which the pianist alone on his instrument savors the timbre spectrum of harmonies and disharmony in the wake of Schönberg and Webern, prove to be peculiar islands of calm on this incredibly dense album.
It all started for the Schunke, who grew up near Hanover, with European classics. But then a dedicated music school teacher opened his ears to Latin jazz, artists and formations such as Eddie Palmieri, Michel Camilo and Iraqere. And although the young pianist showed unmistakable talent in this area, there was a conviction: "As a German, you should never think of being able to hold a candle to the great Latin role models." In New York, where the 23-year-old Schunke had actually devoured because of a law internship, but people saw it very differently. Chick Corea bassist John Benitez was so enthusiastic about the German's own approach that he immediately organized a recording session, which included Pat Metheny's later drummer Antonio Sanchez. According to Wikipedia, the result, the South American-European fusion "Symbiosis", is regarded as a model for the modernization of the Latin American clave rhythm patterns on the basis of odd meters.
For Schunke, who has been living in Berlin for 12 years, the debut album not only opened doors on the American continent, where he has a large fan base, but also in China. Only in his homeland is he an unknown quantity, despite his tours on behalf of the Goethe-Institut or in the entourage of the then Federal President Horst Köhler.
With Genesis. Mystery and Magic" should finally change that for the prophet of a powerful new Latin jazz philosophy in his own country. You don't have to be a biblical psychic to predict that."
Author: Josef Engels, Berlin